Planning for construction management have a specific areas of management like scope management.
We need to document all the requirements of your construction project.
Collecting Requirements for Scope Management , How do we collect project requirements?
Requirements Documentation of Scope Management
Is a list of all requirements associated with the project and can be categorize as stakeholder and priority, or trade and technical. Lists of requirements will be progressively elaborated as the data becomes available on the project. This document is usually created during the second step of construction management or the project management for construction.
For requirement documentation template or form it's good when you included Requirements Traceability Matrix which is used to track the given requirement, link to a project purpose, and verify the identified requirements.
Construction project is one of the most complex projects to execute.
It requires categorization of requirements to be documented. Here are some of the categories that are commonly used.
Permits and Licenses Requirements
Bonds and Insurances Requirements
Safety Requirements
Environmental and Health Requirements
Security Requirements
Earth Works Requirements
Quality Assurance / Quality Control (QA/QC) Requirements
Civil / Structural Works Requirements
Architectural Requirements
Mechanical Requirements (Heat Ventilation, Air Conditioning, Plumbing)
Electrical Requirements
Fire Protection Requirements
Auxiliary Requirements
Useful Tips for Requirement Documentation of Construction Management
Document the sponsor's or customer's requirements in terms of the material supply or specific trade that they can provide. This must be noted in the early stage of planning , which is often called Owner Supplied Materials because some owners or sponsors have their related businesses in the material and equipment supplies. Planning in construction management need to documents all customers inputs and requirements, this is the starting point of all the requirements and project needs.
When customers or sponsors have their repeated projects like warehouses or shopping malls, they prefer to select some materials or equipment that they can use for their next project. They can remove the items with mark ups (upcoming contractor), so that they can save money from it.
Defining the Scope in Construction Management Planning , How To Define the Scope?
Defining the scope in the statement of project scope
What is the statement of Project scope ?
Statement of Project Scope is where the project deliverable are described in details and the necessary requirements, including expected work and output, are elaborated .This serves as an important guide for the execution of the project by the team members and provide the team with the detailed planning approach.
Furthermore, statement of project scope provides in-depth information for change request as additive or deductive. This document is often created during the second step of planning for construction management.
Here is the last process of scope management in planning for construction management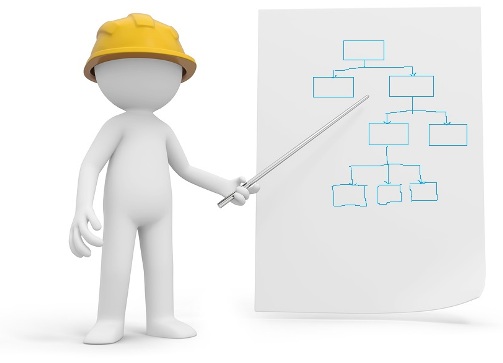 Did you hear the word WBS in construction management?
Creating WBS and what is this WBS all about?
Work breakdown structure or WBS is where the project will be broken down into smaller manageable pieces. It is designed to be in a top-down decomposition of the project with the lowest level as the work package. The representation of work breakdown structure involves a hierarchical chart format and breakdown lists format. This document is generally created during the second step of construction management.
Tips For WBS
Work not included in the WBS is not part of the project.
You cannot finish a successful project without WBS. This is the foundation of any project.
With every project you have, document the WBS and use the previous one as template for future similar projects.
Key Points For Work Breakdown Structure the what we call WBS
The top level is the project title.
The project must be broken down into smaller and manageable pieces, all the way up to work package level. There is no rule of thumb in breaking down the project into WBS. It can be outsourced or contracted, can be estimated, cannot be logically divided, and deliverables are to be defined.
Provide numbering for easy identification and further use, such as cost coding.
WBS should be created with the help of the team.
WBS Dictionary
Work breakdown structure dictionary provides supplemental details to WBS, such as detailed description of work to be done, detailed information of work packages, and control accounts for cost. This document is often created during the second step of construction management.
How's the summary of the whole process?
In this article of planning for construction management with the specific area on the scope management, we have the requirements that needs to be documented that captured in our requirement documentation , our project now will have the scope to be defined , in this case we will create statement of project scope , this statement of project scope will then be put in the whole picture as our work breakdown structure , what we call the WBS and a supplemental document to create WBS as a detailed one is the work breakdown structure dictionary in common term is the WBS Dictionary.
Please share your thoughts below..
Succeed in Project Management for Construction!
Marvin